Receivers LFI and HFI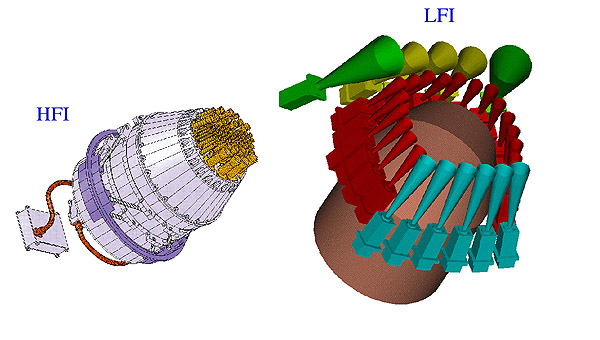 The Low Frequency Instrument (LFI) operates on frequencies 30, 44 and 70 GHz. There are several individual receivers at each frequency (4, 6, and 12, respectively). The High Frequency Instrument (HFI) operates at frequencies 100, 143, 217, 353, 545, and 857 GHz. The number of receivers at each frequency is 4, 12, 12, 6, 6 and 6, respectively. The HFI instrument will be installed inside the LFI instrument.
The twelve 70 GHz receivers are being developed and built in Finland (in cooperation between Millilab, Ylinen Electronics Co., and Metsähovi). They use Monolithic Microwave Integrated Circuits (MMIC) and are about a size of a matchbox! The CMB radiation must be amplified by a factor of one million as the differences in the temperature structure are so very small. Because the CMB is very cold (3 Kelvins or -270 degrees Celsius), the receivers must be also cooled, otherwise the required sensitivity will not be reached.
Orbit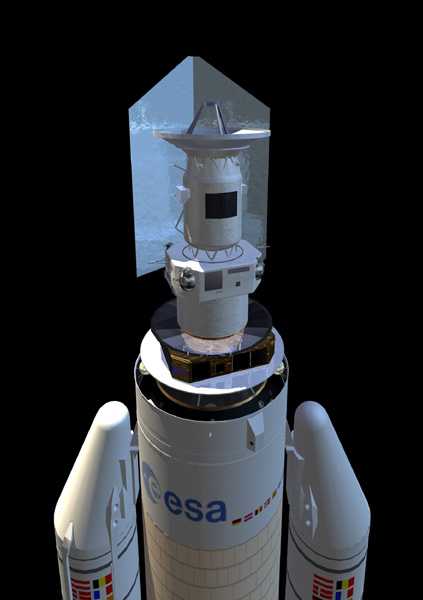 The Planck satellite will be launched on Ariane 5 launch vehicle together with the Herschel satellite. The baseline orbit chosen for Planck is an elliptical orbit around the L2 Lagrangian point of the Earth-Sun system. This point is at a distance of about 1.5 million kilometres from Earth, away from the direction of the Sun. At this location it is possible to point the satellite towards the empty space and away from most sources of interference. Thus the amount of straylight will be minimal, and the thermal environment stable.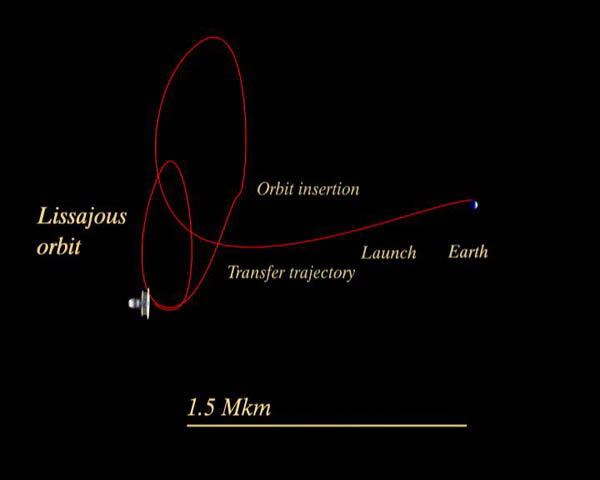 The telescope is at an angle of 70 degrees to the body of the satellite. As the satellite spins around, the telescope scans a narrow slice of the sky. Every day the attitude of the satellite changes a little, and in about six months the sky has been covered once. This full-sky measurement is then repeated to improve sensitivity. The whole mission is predicted to last, from the launch to the repeated measurement of the last slice of the sky, about 15 months. The launch is currently scheduled for 2008.